GDG DevFest
Our team of developers attended the annual Google GDG DevFest held in Cyberjaya on 10 Nov 2013 (Sun).
We are able to gain access to several new Google APIs, new hardware, new mobile ads platforms and future wearable techs insights and sneak peaks.
Our team was also privileged to discuss several current key elements on Android 4.4 KitKat with top developers from Google UK.
Overall, this is an exciting event for us as developers.
What's a great place to have this event
Don't missed the registration booth!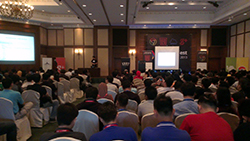 As expected, it was a full house. Approx 1,000 attendees
Last but not least, great food too…!